The world's first Remote-control GUITAR PEDAL switcher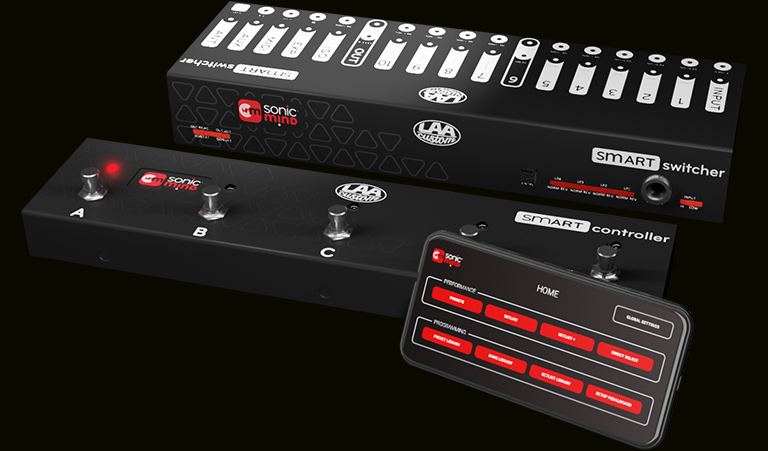 The revolution behind your pedalboard
Simple & Clear
Configure the whole thing through the intuitive mobile app – pedal sequencing, loops, presets, wet/dry, songs, set lists and more. Create unlimited presets or assign whatever function you want to any switch! Total flexibility with NO complication.
Remote control
The switcher sits under your pedals or in a rack. It is controlled (remotely) through a sleek control unit with footswitches which can sit at the front of the pedalboard – or even outside it – your choice!
Pure analog
Your precious tone is never touched – while the control is digital, ALL the switching and connections maintain the absolute integrity of your great ANALOG tone!
Flexibility
With different performance modes available and the ability to freely program the bankable footswitches to many different functions, the SmartSwitcher can adapt to any on-stage situation you need.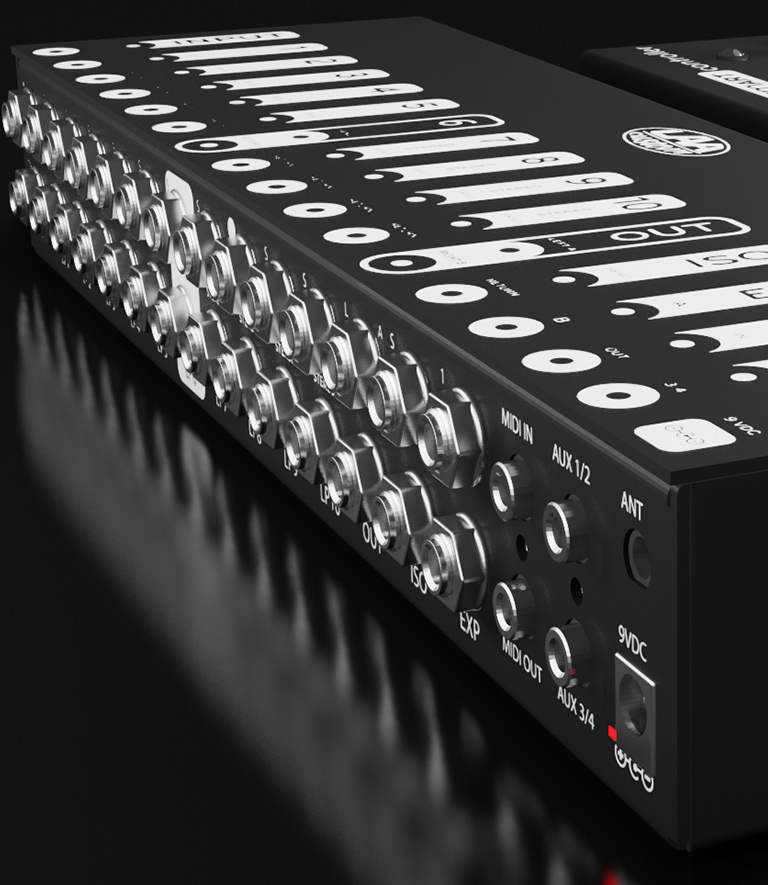 The pedal switcher you always dreamed of
So easy-to-use
So compact
So flexible
All the high-end features you'd expect from a top-of-the-line guitar pedal switcher – delivered in a way that changes the game!
FULL CONTROL AS YOU PLAY
You can monitor exactly what's happening in real-time as you play! On a mobile device of your choice and size, wherever you want – on your pedalboard, on a stage monitor speaker, on a stand, fixed to your mic stand, on your amp. Wherever.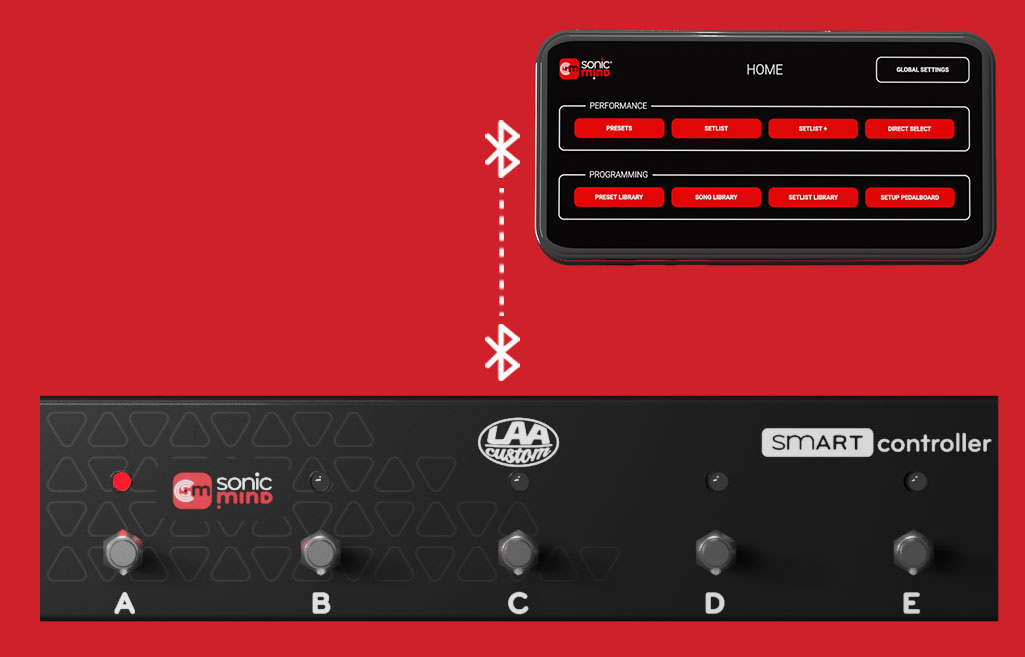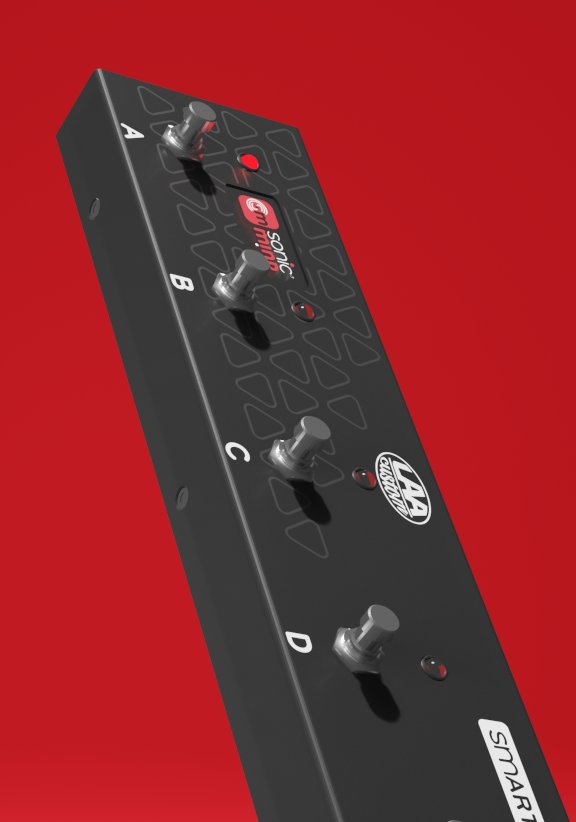 controller
This is the bit you see! Five, fully-programmable, bankable footswitches enable easy navigation – configure them how you like to play and. If needed, add a 5-switch extension unit. It controls the SmartSwitcher – with lightning-fast, industrial-strength radio-control: no cables! It squeezes easily into the front of your pedalboard… or even stand-alone outside the pedalboard: operate your switcher functions truly remotely!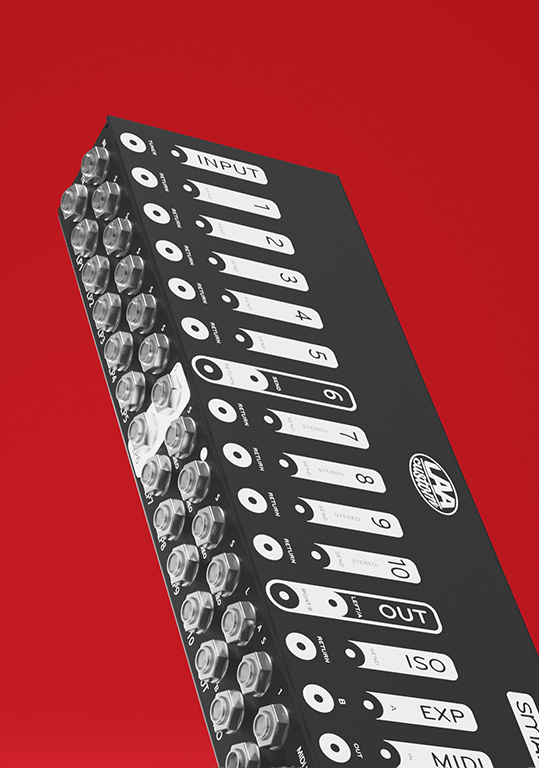 switcher
This is the heart of the system, with all your pedals connected to it. It controls which pedals are active or TRUE bypassed, the sequence the pedals connect in and sets the wet/dry and more.
It's compact and can fit easily under your pedals or even in a rack. This keeps the cabling tidy and easily managed – and frees up space at the front of your pedalboard.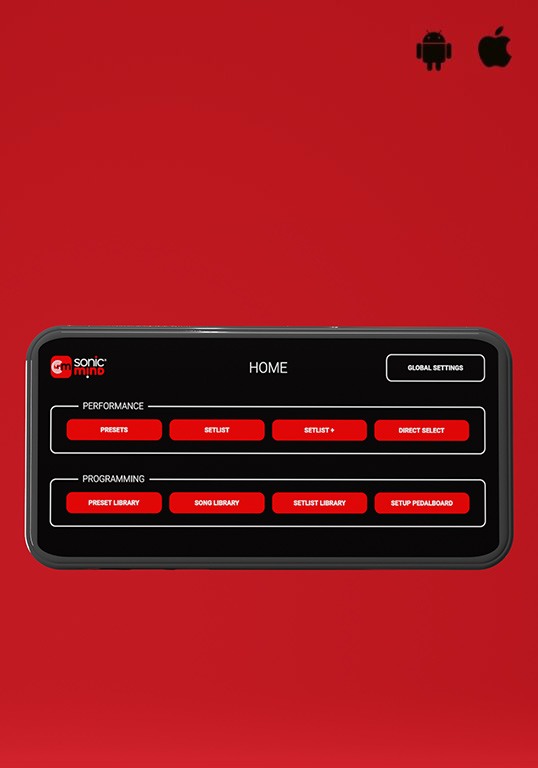 smart app
The intuitive interface is so easy to use! Create and save presets for each tone, build songs with presets and make set-lists from songs or use it to configure the footswitch to exactly how you want to play! The programmed settings automatically download over Bluetooth to the SmartController which controls the SmartSwitcher. The App also always gives you a clear view of where you are in your set list, what pedals are active and in what sequence.
Pure tone has always been our #1 priority.
The pedigree of our pedals and amps has been carried through to this GUITAR switcher. This means you can switch the sequence of your pedals without any disruption of the analog path or any unwanted noise.
The result will not disappoint you (hint – we're being modest here!).
Revolutionary
With 2 units and the app – this gives you the flexibility and power to change the way you create and play your music.
Compact
With the switcher remote-controlled by a separate unit, it doesn't need to take up space ON your pedalboard – leaving room for more pedals or a smaller pedalboard!
So easy-to-use
Program everything through an intuitive app on any mobile device – using guitar effect switchers was NEVER this easy!
Practical
The flexible design with the app as a display and the foot switches separate – cabling becomes much easier and tidier.
Pure tone
Your ANALOG TONE is never touched. The control may be digital, but the integrity of your signal is PURE ANALOG.
True Coil Audio Transformers
Custom wound output transformers are used to deliver the same quality as STUDIO recording outboards, this also eliminates any ground loops and noise in the output thanks to transformer isolation and ground lift.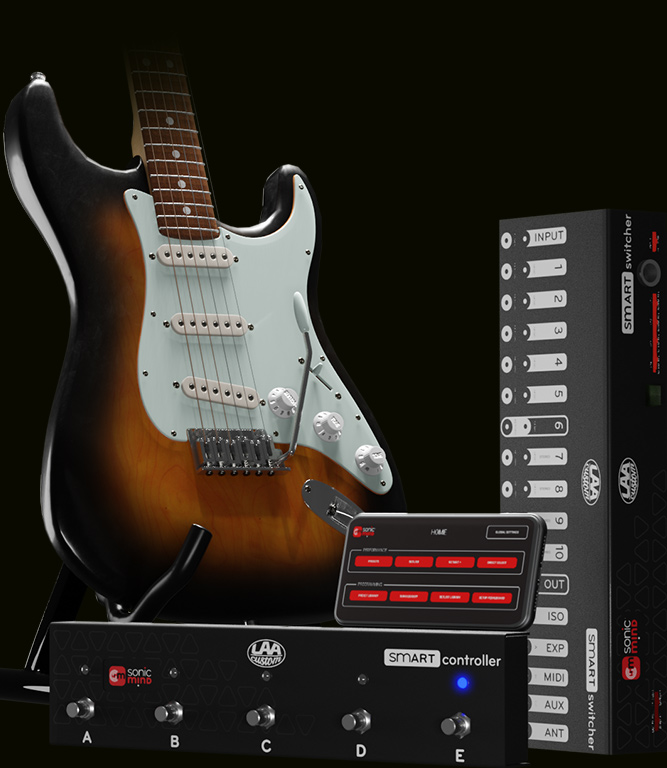 Specification
This is the switcher that gives you all the features you'd want – and more.
Here they are:
100% ANALOG SOUND
SMALLEST 10-LOOP SWITCHER ON THE MARKET:
300mm x 110mm x 44mm (11.75" x 4.24" x 1.75")
SLEEK FRONT-OF-BOARD REMOTE CONTROL UNIT WITH 5 FOOTSWITCHES:
300mm X 65mm X 26mm (11.75"X 2.5"X 1")
6 MONO AND 4 STEREO LOOPS (USING A Y-SPLITTER CABLE CAN ACTUALLY ENABLE UP TO 14 MONO LOOPS)
CUSTOMIZABLE SIGNAL PATH AND EFFECT POSITIONINING FOR EACH PRESET
FULLY-FLEXIBLE POSITIONING OF SEND/RETURN LOOP – PER PRESET
FULL PROGRAMMING VIA INTUITIVE APP (IOS OR ANDROID) – CONNECTED VIA BLUETOOTH
UNLIMITED ONBOARD PRESETS
FULL OUTPUT LEVEL AND BOOST (UP TO 6dB), PROGRAMMABLE FOR EACH PRESET
OPTIONAL EXTENSION UNIT TO EXPAND BY ADDITIONAL 5 FOOTSWITCHES
STEREO OR A/B/Y USER SELECTABLE OUTPUTS
1:1 STEREO MIXER ON LOOP 9&10 FOR PARALLEL DRY/WET AND SPILLOVER
PROGRAMMABLE DRY SIGNAL IN PARALLEL WITH MONO LOOPS 1&2
LAA TRUE COIL TRANSFORMERS ON THE MAIN OUTPUT
PHASE REVERSE ON OUTPUT A OR B
AUDIO-GRADE BUFFERS
GROUND-LOOP ISOLATOR
4 AUX SWITCHES FOR AMP SWITCHING
2 EXPRESSION PEDAL INPUTS
MIDI IN/OUT INTERFACE
FULL MIDI MAPPING WITH CONTROL CHANGE AND PROGRAM CHANGE ON THE APP
UP TO 8 SIMULTANEOUSLY-OUTPUT MIDI MESSAGES ON DIFFERENT CHANNELS
FULL, SECURE BACK-UP OF ALL SETTINGS AND PRESET + OFFLINE EDITING
OPTIONAL CABLE CONNECTION BETWEEN CONTROLLER AND SWITCHER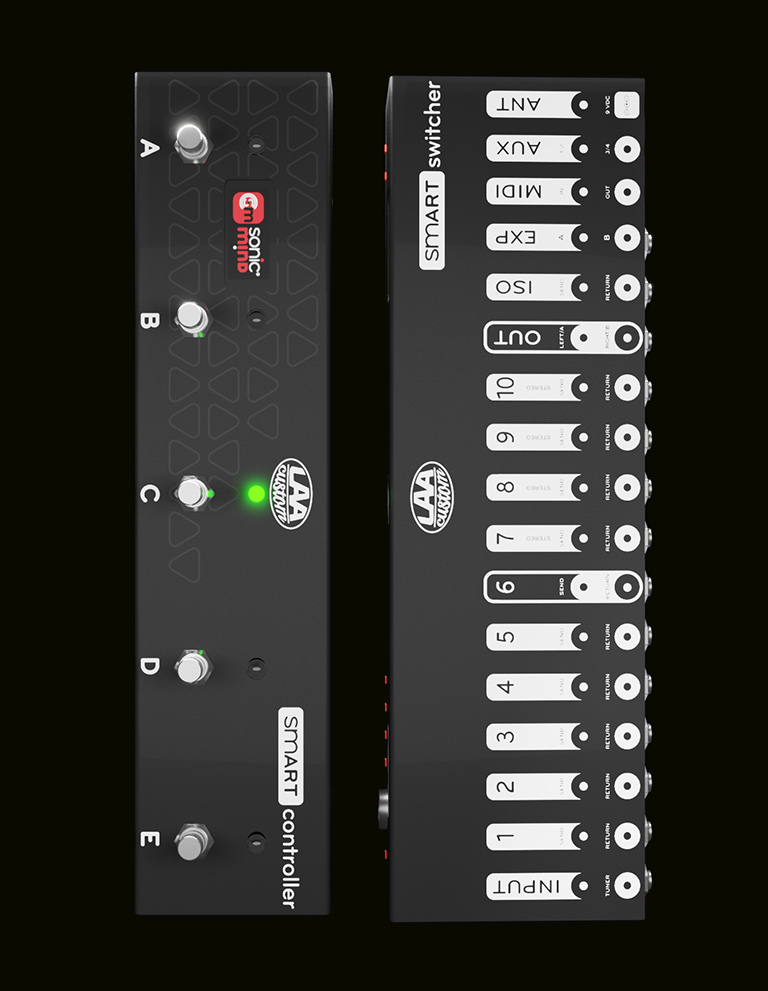 Need more switches?
Just add the extension!